Enjoy High-Quality Audio Video in Every Room of Your Home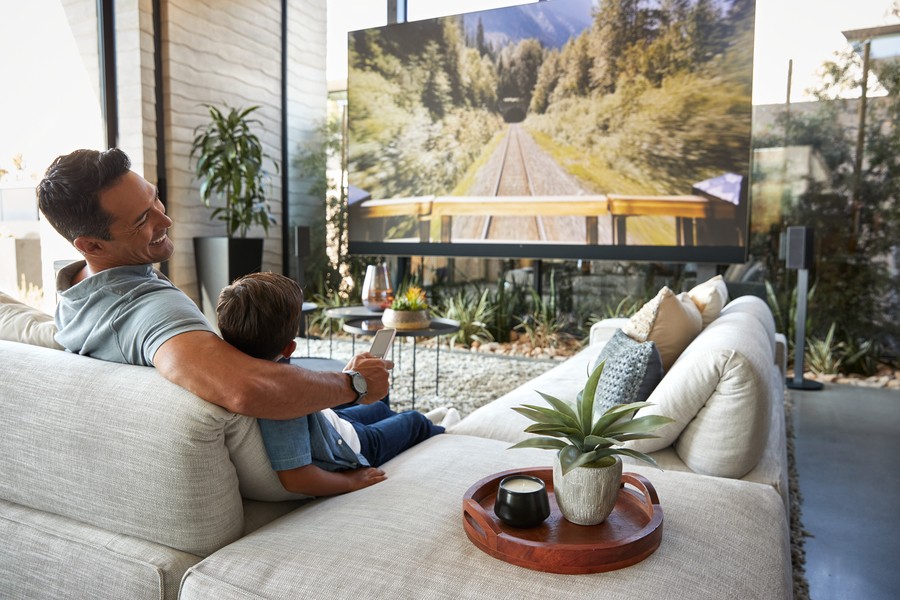 Explore the Latest AV Solutions
Dinner parties with friends and movie nights with the family—these are the moments in your home in Southern Ontario, Canada, that create the memories that last a lifetime. With today's technology, you can enhance these experiences in extraordinary ways, providing the best in music, media, and entertainment.
Let's explore some of our clients' favorite high-quality audio-video solutions that make their everyday moments extra special!
SEE ALSO: The Perks of Working with a Professional Home Theater Designer
Experience Multi-Room Music
A professionally installed multi-room music system offers impressive high-fidelity audio throughout your home. Hidden architectural speakers deliver the all-encompassing sound that floats through the air, seemingly coming from nowhere. Whether entertaining friends or relaxing in the living room, this level of music can take your breath away.
These systems let you simultaneously enjoy different audio in every room, controlling all your music and audio sources from a high-resolution touchscreen or mobile app. Select the source and the room, and enjoy. Choose some relaxing jazz in the dining area when it's time for dinner. When friends come over, select your favorite party playlist to fill your home.
Enjoy the Ultimate Movie Night & Game Day
From dedicated home theaters to multi-use media rooms, our trusted AV experts at Balaklava create the perfect home entertainment space. For those who want to immerse themselves in the latest blockbusters, our home theaters provide all-engulfing surround sound, lifelike images, and customized plush theater-style seating. All aspects are engineered to create the ultimate cinematic experience in your home.
Some families prefer media rooms designed for every form of entertainment. In these spaces, we use hidden AV solutions, retaining your home's aesthetics until it's time for game day or family movie night. Then, with the press of a button, your 4K HDR TV emerges from its hiding place, while the in-ceiling speakers provide brilliant sound.
Outdoor Entertainment
Many of our clients treasure the warmer months and the beauty of their outdoor areas. To add to the fun, they've embraced the latest outdoor entertainment. Weatherproof 4K UHD TVs deliver brilliant pictures with superior brightness and can be installed in the full sun or shade. 
Outdoor architectural speakers meld into the landscape while providing incredible corner-to-corner, high-resolution music. And this AV equipment is controlled by the same user-friendly platform that manages your indoor entertainment! Now, you can play the same beautiful melody throughout your home and outdoor areas or tune into the game on the patio while others enjoy their favorite playlists by the fireplace. 
As a premier audio-visual company serving Southern Ontario, Balaklava is excited to bring our clients the latest innovations and leading technology. Each of our projects is custom-designed, creating home entertainment that's truly extraordinary and personalized for your unique lifestyle. To learn more about the many options in high-quality audio video or to schedule a complimentary consultation, contact Balaklava today.